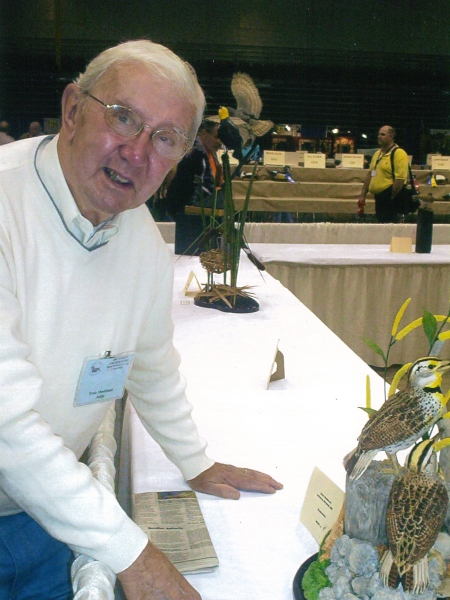 (1927 – 2016)
Ernest F. Muehlmatt, 88, of Salisbury, MD, died peacefully at home on February 5, 2016. Ernie was born on November 13,1927 in Ridley Park, PA, the son of the late Ernest and Mary (Trankle). His dad operated greenhouses and a floral business.
During World War II, Ernie enlisted in the Army and was sent to Virginia Polytechnic Institute and then to the Aleutian Islands. After his discharge, he attended the Advertising and Art League in Philadelphia, PA. In 1954, Ernie joined his brother, Ted, in the family business: Muehlmatt and Sons Florist. A gift of a bird carving introduced Ernie to carving and changed his life forever. After the brothers quit the flower business, Ernie started carving full time and opened a small shop on the homestead.
Ernie used to say he never worked a day in his life because he did what he loved: carving. In the late 1970s he became one of the most prominent carvers, winning Best in World at the Ward World Championship Carving Competition three times. Some of his works are on permanent display at the Ward Museum. He loved teaching others to carve, and taught carving seminars all over the country. He wrote and co-authored several books, and wrote numerous articles for Wildfowl Carving Magazine. Ernie is known for his many carving innovations, including burning for color and one piece carvings.
Drawing was one of Ernie's favorite hobbies when he wasn't carving. He loved drawing pencil portraits for family and friends. Some of his work is shown in The Bagel Bakery in Salisbury, where he drew portraits of all the regular customers, especially the Breakfast Club. He began every morning there with a cup of coffee and a sweet.
Ernie loved to fish. For over 40 years, a group of friends rented a houseboat every fall in Canada to fish. After he moved to Salisbury in 1997, he could be seen in his little boat on Tony Tank pond with his fishing rod and his glass of Merlot celebrating happy hour.
Ernie is survived by his loving wife, Kathy Boyle; sons Eric, of Warwick, RI, and, Jeffrey (Carolyn) of Fawn Grove, PA; and stepson, Christopher Hofmann (Rachel) of Arlington, VA. He is also survived by a brother Theodore (Marjorie) of Media, PA. A sister, Mary Worrilow, preceded him in death.
His family wishes to thank MAC, Inc. and Coastal Hospice for their wonderful care during Ernie's struggle with Alzheimer's in his final days, and the support of his many friends.
A Celebration of Ernie's Life will be held on February 18, 2016, 1:00 PM at the Ward Museum of Wildfowl Art, 909 S Schumaker Dr., Salisbury, MD 21804.
Messages of condolence to the family may be sent at emuehlmatt@comcast.net