Look for the announcement for the 2024 Living Legends coming soon!
Living Legend Award Dinner tickets will be available soon!
The award ceremony and dinner for the 2024 Living Legends will be held on Friday, April 26 during the 2024 Ward World Championships. A reception will be held beginning at 5:30 p.m. with the dinner beginning at 6:00 p.m.
2022-2023 Living Legends: Jeff Bounds, Jeff Rechin & Ross Smoker
The Living Legend Award recognizes individuals who have been long-time advocates for wildfowl art and the Ward Museum. The award honors those who are generous in spirit and commitment to teaching others and passing on their knowledge, skills and talents; and who have created an impact on the field of wildfowl art and/or the Ward World Championship Wildfowl Carving Competition and Art Festival. For the 2022-2023 Living Legend award, we placed a special emphasis on service. Our three recipients are undeniably incredible servants to the carving community and have committed themselves to helping others within our cherished community. Please join us in celebrating our 2022-2023 Living Legends: Jeff Bounds, Jeff Rechin, and Ross Smoker.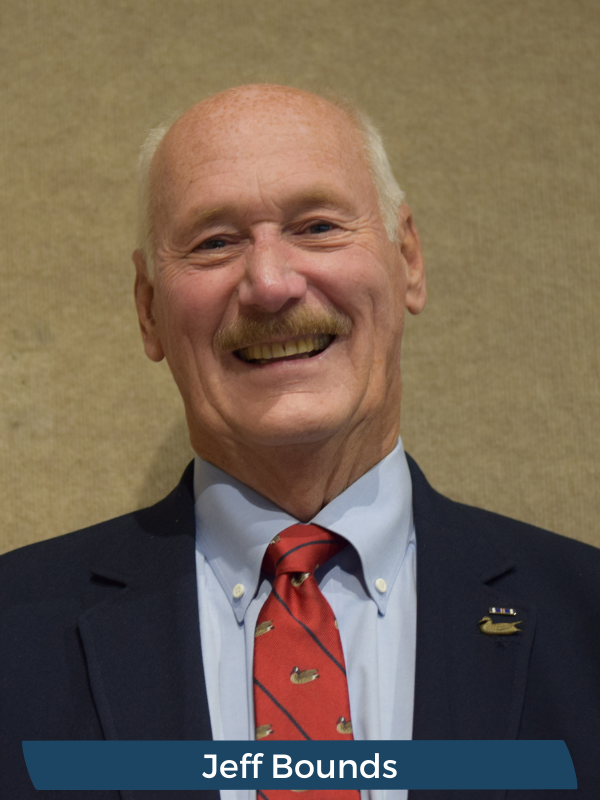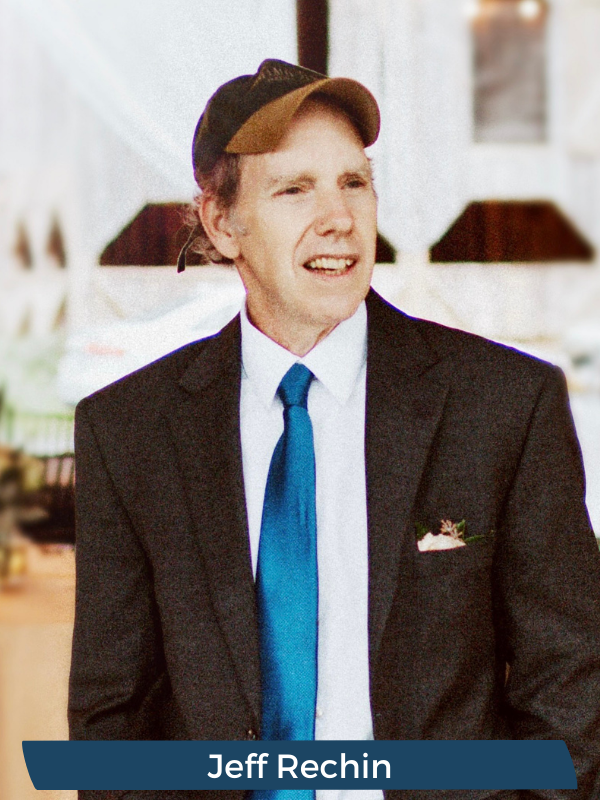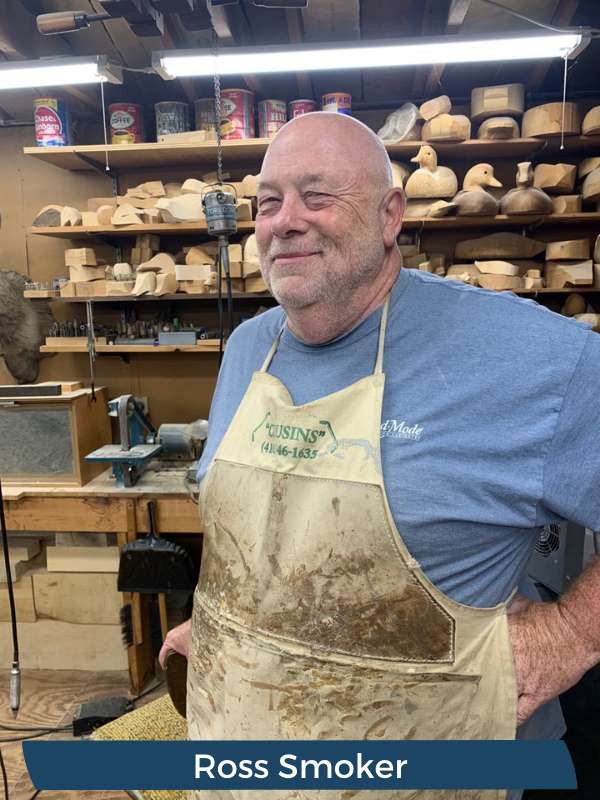 Jeff Bounds (Salisbury, MD) – Intimately tied to the Ward World Championship and the Ward Foundation, Jeff has been a devoted volunteer since the competition began. Working his way up from a clerk to competition announcer – Jeff is now regarded as the "Voice of Worlds." The son of Charlie Bounds, one of the founding members of the Ward Foundation, Jeff has certainly followed in the footsteps of his father and has dedicated much of his life to the benefit of the carving community. He continues to instill the love and passion for carving in the hearts of everyone he meets and has been a remarkable servant over the decades.
Jeff Rechin (Amissville, VA) – A carving and painting instructor of decoys and songbirds for many years, Jeff exemplifies service through his teaching. A self-taught carver, he spreads his love of the craft in all that he does – one student at a time. A two-time Best in World winner at the Ward World Championship (1998, 2000), he has also received top finishes in many other carving competitions including the North American Songbird Championship and Northern Virginia Artistry in Wood Show.
Ross Smoker (Selinsgrove, PA) – Ross' enthusiasm for wildlife began at a young age while following his brother to the creek behind the family homestead. He starting carving in earnest in 1980 at the age of 17 with his father, Richard B. Smoker, and his brother Rich W. Smoker, making gunning decoy rigs for himself and others. Ross has competed in shows all over the country and has won many Best in Show ribbons for his work. An exemplary teacher, Ross has led countless classes on wildfowl carving for amateurs and experts alike. A routine fixture at the Ward World Championship Education Conference, Ross continually shares his love and passion for carving.
In 2021, the Ward Museum honored wildfowl artists Larry Barth, Jett Brunet and Dan Burgette with the Ward Foundation 2020-2021 Living Legend Award virtually. In 2023, all six living legends will be celebrated at the Living Legends Dinner during the Ward World Championship.
2020-2021 Award Recipients:
Larry Barth, Stahlstown, PA
Jett Brunet, Galliano, LA
Dan Burgette, Tetonia, ID
2019 Award Recipients:
Lynn Branson, Courtenay, BC, Canada
Keith Mueller, Killingworth, CT
Peter Palumbo, Patchogue, NY
2018 Award Recipients:
Robert Kerr, Smith Falls, ON, Canada
Oliver "Tuts" Lawson, Crisfield, MD
David Turner, Onley, VA
2017 Award Recipients:
Tom Christie, Waverly IA
Curt Fabre, Bourg, LA
Bennett Scott, Berlin, MD
2016 Award Recipients:
Del Herbert Long, Chula Vista, CA
Rich Smoker, Marion Station, MD
Todd Wohlt (d.), Appleton, WI
2015 Award Recipients:
Pat Godin, Ontario, Canada
Bob Sutton (d.) Long Beach, CA
Bill Veasey (d.), Elkton, MD
2014 Award Recipients:
Tan Brunet (d.), Galliano, Louisiana
John B. Garton, Smith Falls, Ontario
Floyd Scholz, Hancock, Vermont
2013 Award Recipients
Delbert "Cigar" Daisey (d.), Chincoteague, Virginia
Robert "Bob" Guge (d.), Sleepyhollow, Illinois
Ernest "Ernie" Muehlmatt (d.), Salisbury, Maryland
The Ward Museum strives to lead the way for advancing the understanding of wildfowl art and the interrelationships of art, nature and culture. Through educational programs, exhibits and events, the museum builds upon the legacy of Lem and Steve Ward to bring young and old to a greater understanding of the human relationship to the natural world.
The Ward Foundation Living Legends fund is intended to allow donors to make restricted gifts for the continuation of the Living Legends awards. Gifts of $150 or more will be published as contributors to the Living Legend Fund. If you would like to contribute to this fund, select a Donation from the Online Store and choose "Living Legends" for your donation use.