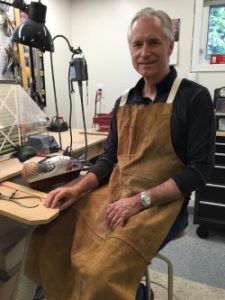 Tom Christie (b. 1956) grew up in Marion, IN and developed a fascination with wildfowl at an early age.  His first exposure to waterfowl was "jump-shooting" Mallards, Black Ducks, and Wood Ducks with his dad—stalking them, often on foot—on the Tippecanoe River in northern Indiana. Those early days in the great outdoors left an indelible mark on Tom, and he has been passionate about waterfowl ever since.
Tom attended Purdue University and graduated in 1980 with a degree in Mechanical Engineering, and began a career in manufacturing with the Whirlpool Corporation after graduation; but his love of hunting continued.  Tom began carving his own hunting decoys in 1986, when he made three Goldeneyes to add to his diver rig. Seeing live Goldeneyes drop in to the rig of his hand-carved blocks was a thrill Tom will never forget, and from that time on he was hooked on decoy carving. He then joined a carving club in northern Ohio, the Maumee Bay Carvers.
It was in that club that Tom was first introduced to competitive carving. His first entry into a competition was not successful. In fact, his black duck decoy was the first one to leave the tank!  But by participating in a variety of competitions, and continually learning from other carvers, Tom began to have success in carving competitions and won his first Best of Show honors in 1989. He counts among his major influences Bob Bolle, 2015 Living Legend Pat Godin, Jett Brunet, and Jimmie Vizier.
Since the late-1980s Tom has won numerous Best of Show and other awards in carving competitions across the country. He is a six-time Ward World Champion in the Shootin' Rig category, has eight Best in Show awards in the Lem and Steve Ward competition, and is a nine-time IWCA International Wildfowl Carving Association National Champion.
Along with competing, Tom enjoys teaching seminars and judging at various shows throughout the country, including teaching as a Master Carver in the Ward Museum's National Endowment for the Arts-funded Carving out Future Decoy Makers program. He finds that sharing his passion with others is very rewarding, and he enjoys giving something back to the art form that he loves. Adding to this, Tom is a longtime supporter of the wildfowl carving community as a volunteer, serving at wildfowl carving organizations and competitions across the country for 30 years, including service on the Ward World Championship Rules Committee.
Today, in addition to being a World-class carver, Tom is President of ATEK Metal Technologies and lives with his wife Carmen in Waverly, IA.  They have three children and one grandchild and enjoy spending time with all of them whenever possible. Tom attributes his success in carving to God-given talent, a love for waterfowl, and the friendship and support of the carving community.  He continues to be passionate about carving after three decades of competition and says he is inspired by the entire creative process.
For his many accolades, and dedication to teaching and service in the wildfowl carving community, the Ward Museum is excited to honor Tom Christie as a Living Legend at the 2017 Ward World Championships.