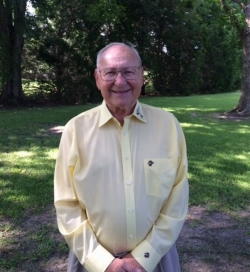 Born and raised in southern Louisiana, Curt Fabre (b. 1929) hunted and fished with his father in the marshes of the bayou country as a young boy.  He recalls hunting ducks over his family's hand-carved stools in a region now famous for its decoys. Although his initial efforts were to make functional hunting decoys, by the late 1970s he learned to create highly detailed competition birds, influenced by another Living Legend (2015), Tan Brunet; and Curt would go on to become an important figure in the lives of many contemporary carvers.
In the early 1980s Curt started supplying other carvers with tools and wood, developing his business, Curt's Wildfowl Corner. Through this he provided more than materials. He is said by fellow carvers to have an uncanny ability to educate himself on the methods and tools used by the best wildfowl carvers, and then spread that knowledge to beginners. There are many stories of him talking on the phone with carvers who were looking for a particular tool, and if Curt did not have it he would find a way to track down a source and acquire it for them.
In the 1970s and '80s when "the Cajuns," including Tan Brunet and Jimmie Vizier, began competing at the Ward World Competition, they introduced many carvers to tupelo, a fine-grain wood native to southern Louisiana, but new to northern carvers. Curt and his family quickly became one of the main sources for this wood.  He has been a mainstay at Worlds since, working hard to supply carvers looking for the best carving wood for their pieces for the next year's show.
Along with his interest in carving wildfowl and assisting other carvers, Curt has kept a large variety of waterfowl species in his aviary, and shared this resource with fellow carvers. For example, in the mid-1980s Curt was instrumental in aiding Living Legend (2015) Pat Godin with gathering reference for the well-known series of publications, Championship Waterfowl Patterns. He spent extensive time with Pat, with ducks in his hands as measurements were collected to ensure the accuracy of publication material. Information about live specimens from his aviary also found their way to the workshops of legendary carvers such as Jimmie Vizier.
These species no doubt helped aid Curt in developing his own carving and painting style, too, which garnered him several awards. These include ribbons such as Best in Category at Worlds, and honors such as Life Member of the Waterfowl Preservation and Decoy Club of Michigan, Person of the Year from Roses Norther Nationals in Minnesota, and Lifetime Achievement awards from South Louisiana Wildfowl Carver and New Orleans Carvers and Collectors Guild.
Over the years Curt has developed a reputation among fellow carvers as a fine and trustworthy southern gentleman. Along with his helpful knowledge freely given to other carvers, Curt has been responsible for showing the great hospitality of the unique Cajun culture. Over the years he has learned a lot about human nature and describes bird carvers as "an honorable and trusting group with a lot in common: a passion for nature and birds, a desire to create, and a willingness to help and share with others." Curt Fabre certainly fits that mold, and for these reasons the Ward Museum will be pleased to honor Curt as a 2017 Living Legend at the Ward World Championships.