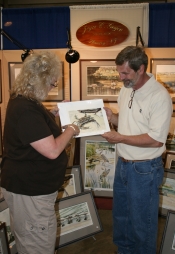 Our exhibitors are a very important part of the Ward World Championship event.
In the Competition Hall AB, exhibitors showcase supplies for carvers and artists as well as original paintings, photography, carvings, home decorating items, clothes, folk art, and jewelry. In the parking lot, vendors offer driftwood and several different types of wood for carving.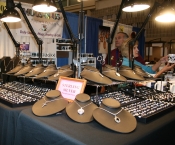 Best Booth awards will be given to vendors with the most creative booth design.  The registration and set up process is easy and efficient.  Dedicated volunteers are available to assist you during the show.  Several hotels give discounts to our exhibitors. This is a rare opportunity to be a part of a truly international event. Competitors come from throughout the United States and Canada as well as Japan, England, Scandinavia, Spain and Central America.  They not only come to compete but to shop as well. In addition to the competitors, we have collectors and gift shop owners looking to buy.  This year we expect over 6,000 attendees.
The dates for the show are April 22, 23 & 24, 2022