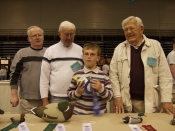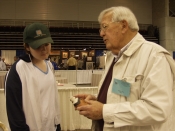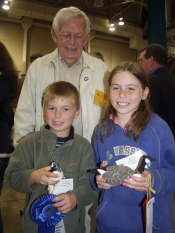 Habbart passed away on April 10, 2009.  To honor his legacy, the Ward Foundation, the Dean Family, and friends of Habbart's established the Habbart Dean Memorial Fund.  Habbart's passion was encouraging the artistic growth of young carvers at the Ward World Championship. This Fund supports the expansion of the Youth Programs at the World Championship.
Habbart Dean lived many lives: sailor, musician, soldier, waterman, administrator, and carver. Habbart grew up in Cambridge, Maryland where his father was a skipjack captain. He vividly remembered sailing with his father as a child and that's where his deep love for the water and nature developed.
In the late seventies, Habbart began carving miniature duck pins, and tie tacs. They sold very well, ultimately leading Habbart to mass produce his work. His life as a carver changed when he met Lem Ward. Habbart asked Lem about the proper way to put a head on a bird. Lem showed him and the two developed a close relationship that lasted until Lem passed away in 1985. Habbart was eventually commissioned to produce replicas of Ward brothers' carvings. Habbart asked Lem and he agreed, and the two collaborated on the project for two years.
Habbart had many influences, but it was Dan Brown who he said encouraged him to enter competitions, and it is that motivation that inspired him to higher levels. He earned literally hundreds of ribbons and today is recognized as a master carver. His techniques were vividly described in the book by Roger Schroeder "How to Carve Wildfowl #2."
Habbart was very active in the world of carving having served on the Ward Foundation's Board of Trustees for 13 years. He was influential in the fundraising and planning that led to the construction of the Ward Museum at Schumaker Pond. He was Vice-Chairman of the Board and held numerous committee chairmanships, and was also co-chairman of the Ward World Championship for two years. He continued to judge at competitions until the end of his life.
From fellow carvers to collectors, his relationships covered the Earth. He acknowledged the irony of becoming a sought-out teacher by fellow carvers in Japan when decades earlier he had been among the opposing U.S. forces in World War II. He loved teaching others regardless of their ages or ability. His students were from the U.S., Canada, England, China, and Japan.
The Habbart Dean Memorial Fund is an excellent means to honor Habbart's legacy as well as to promote the art form of wildfowl carving through the expansion of youth programs at the Annual Ward World Championship Wildfowl Carving Competition. Make your donation check to the Ward Foundation with the memo Habbart Dean Memorial Fund and mail it to the Ward Foundation, PO Box 2132, Salisbury, MD 21802.