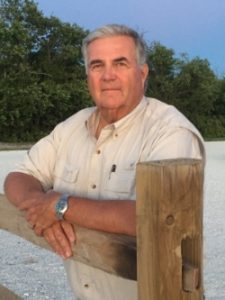 The Eastern Shore and the outdoors have always been a part of the life of David Bennett Scott (b. 1942).  Bennett grew up in Berlin, MD and was raised on the family farm that he still owns today. His interest in carving was born out of his love for nature and his love to hunt, which he began doing with his father at age eight. Today, Bennett is recognized as a leading wildfowl carver, having won numerous awards at shows throughout the country.
Bennett began carving while working long hours at a grain mill; in autumn he could be there all night. So in the mid-1960s Bennett started to carve at work to pass the time, at first with miniatures that he claims were "pretty rough." In fact, he states, "you could put the heads on either end."
In 1970 Bennett participated in his first decoy contest, in Chincoteague, VA. While he did not win anything the first year, he enjoyed it and decided to try again. At the next year's show he won Best in Show in the working division. Bennett's positive experience in Chincoteague led him to the Ward World Carving Competition in 1974. There he won the first Lem and Steve Ward Shootin' Stool competition, an event that changed his life, and led him directly to the Ward brothers.
From the Ward brothers Bennett came to more deeply appreciate the history of carving, and to learn important carving and painting techniques that influence his work to this day. Yet although Bennett was influenced very much by the Ward brothers, as well as John Scheeler, most of the help he received was from Dan Brown.  Bennett used to go to his shop in Salisbury, MD, called the "Decoy Bench," and watch over his shoulder while he painted. This study paid off, and Bennett has since won top honors at competitions throughout the mid-Atlantic.
Today, Bennett has been carving for nearly 50 years, and says that for him it is still a lot of trial and error. The key to his success is to never be satisfied.  He can always find something with a decoy that he would have done a little differently, which drives him to improve on the next.
Not only does Bennett constantly strive to improve his own work, he also helps to pass carving traditions on to the next generation, teaching young carvers that include his son and grandsons. He has also been an instructor in the National Endowment for the Arts Carving Out Future Decoy Makers program. Further, he gives back to the world of carving through extensive volunteer service, including judging at the Ward World Competition and Chesapeake Wildfowl Expo for many years, as well as serving on both competitions' organizing committees—which includes extensive hands-on work making the competitions come to life. Bennett has also served on the Board of Directors for the Ward Foundation, and supported wildfowl carving events and competitions in a wide range of roles. He was inducted into the Easton Waterfowl Festival Hall of Fame in 2003.
Bennett Scott is an award-winning carver for whom carving is a lifelong love. He shares his knowledge and passion generously through extensive volunteer work, service to carving organizations, and educational efforts. For these reasons the Ward Museum is proud to announce it will honor Bennett with the 2017 Living Legend award at the Ward World Championships.