Go on a bird walk every Wednesday at the Ward Museum starting at 9am in the lobby with Ward education staff.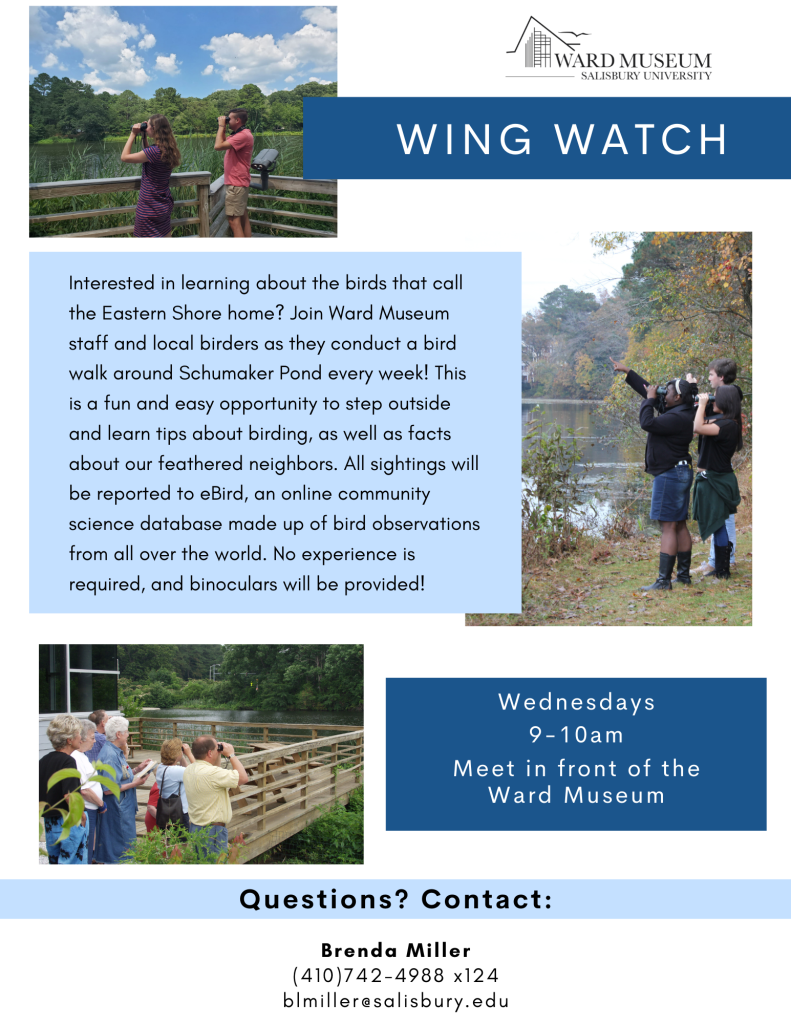 Join local birders, Ward Museum staff, and SU students and faculty as they collect data on local migrating bird population and submit that data into the Cornell Lab of Ornithology's eBird community science program. eBird provides the opportunity to collect real data for real scientific purposes. The need for this data is particularly great on the lower Eastern Shore of Maryland, where numerous birds live, yet limited eBird data is collected. Visit the eBird website to find out more.
There is now an eBird station just off of the museum lobby, where at any time during museum hours you can come bird on our grounds and log data into eBird. See the Treetops Gifts of Art and Nature staff with any questions.
---
Other Community Science Programs for Cornell Lab of Ornithology
Great Backyard Bird Count: Count bird species at your school or park within a 4-day period. It's free, fun and easy and it helps the birds! Over 60,000 participants enter data each year! Taking part in the Great Backyard Bird Count is a great way to get outside with family and friends, have fun, and help birds!
Project PigeonWatch: Help scientists better understand pigeon populations. Learn seven color types of pigeons and their history relating to humans. Observe color morphs and behaviors of Rock Doves in the wild. Count how many of each color morph are in a flock and record the number of courting birds.
Celebrate Urban Birds: Choose a type of bird to watch and record its behavior or go for a walk and count how many different types of birds share your space. Learn how to identify common species of birds.
NestWatch: During the breeding season put up birdhouses or look for nests. Monitor the activity inside the nest and collect information on the species like location, type of habitat, and number of eggs/nestlings in the nest to help scientists discover what species are nesting in your region.
The above community science programs are offered through Cornell Lab of Ornithology.